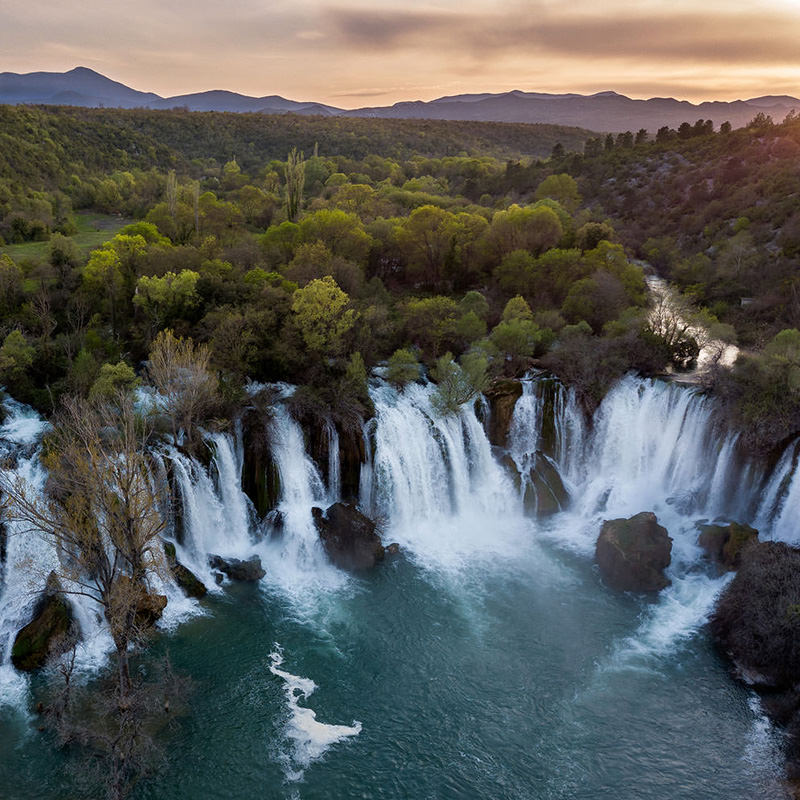 The Kravica waterfall is located on the Trebižat River, 7 km away from Ljubuski. It is a unique natural beauty built by the Trebižat River flowing through limestone terrains and depositing tufa.
The altitude of the river Trebizat below the waterfall is 28 meters, while above the waterfall it is 54 meters. Under the waterfall there is a water amphitheater with a diameter of 120 meters. The waterfall itself is semicircular and is about 28 m high, depending on the water level. During the summer period, you can swim in the water amphitheater under the waterfall and enjoy water sports.
Due to the great changes in the water level and vegetation, the Kravica waterfall offers different and unique experiences in every season.
Koćuša Waterfall is located in the village of Veljaci in the municipality of Ljubuski and is one of the most beautiful natural pearls of this part of Herzegovina. The beauty of this waterfall and the nearby landscape will not leave you indifferent. The height of the waterfall is 5 m and the length is 50 m. Nearby are the mills that have adorned this place for years.
The natural wealth of this area consists of sedimentary rocks, the so-called tufa that has been deposited for years, makes this waterfall attractive. The height of the waterfall is five, and the length is fifty meters. Nearby are the mills and pillars that have adorned this place for years.